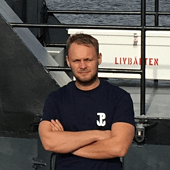 Adam Jaczynski
Manager – Clinton Marine Survey
How long have you worked at Clinton?
I have worked at Clinton since September 2015.

What made you apply for a job at Clinton?

I wanted to develop my skills in a company with a huge potential in the survey industry and Clinton seemed to be a perfect match.

What are your main tasks at Clinton today?

I am Offshore Manager responsible for survey operations onboard Northern Wind.

What is the best part to work as Offshore Manager?

Every day brings you new challenges!