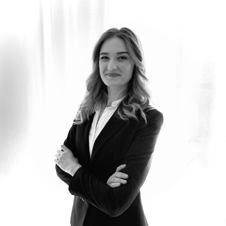 Alice Rydberg
People Operations Manager – Clinton Marine Survey
How long have you worked at Clinton?
Since September 2020. 

What made you apply for a job at Clinton?

I was newly graduated from the university and searched for my next challenge as a HR professional when I found a job opening at Clinton. I believe that Clinton is an interesting company with a focus on delivery to customers as well as making sure to develop the personnel and have fun on the journey!

What are your main tasks at Clinton today?

My role as People Operations Manager include administration of all parts of the personnel process, development of internal documentation and processes as well as managing other tasks related to HR and personnel. I also support the managers by answering HR-related questions.

What is the best part of working as a People Operations Manager?
I enjoy the role of being a "spider in the web" and have a diverse set of tasks related to people and business.