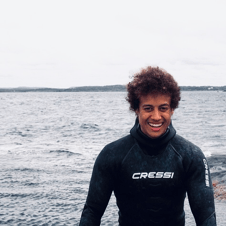 Fabian Clinton
Surveyor – Clinton Marine Survey
How long have you worked at Clinton?
Since June 2020.  
What made you apply for a job at Clinton? A friend of mine already worked at Clinton. From his point of view it sounded like an exciting job. The fact that the company is named Clinton is of course also a factor.  
What are your main tasks at Clinton today? As a Surveyor I am mostly out working in the field with different projects. Mainly in Sweden but also offshore. 
What is the best part of working as a Surveyor?
The best thing about working as a surveyor is that you have the opportunity to travel a lot and see new places. The projects which are contributing to a better environment for society and nature is also very interesting to be a part of.