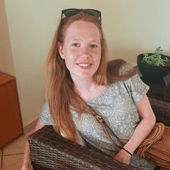 Katarina Bergman Lyck
Geophysicist – Clinton Marine Survey
How long have you worked at Clinton?
Since beginning of June 2020.
What made you apply for a job at Clinton?
I was looking for a job to start at after I graduated from the University. At Clinton I have the opportunity to expand my knowledge in the marine survey field and in geology.
What are your main tasks at Clinton today?
I mainly work with processing backscatter products and sub-bottom data and interpreting geomorphological features.
What are the best part of working as a Geophysicist?
Every day is fun and challenging at the same time I learn something new and interesting.