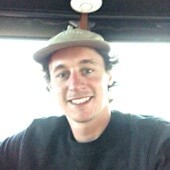 Tom Smethurst
Surveyor – Clinton Marine Survey
How long have you worked at Clinton?
I have worked at Clinton since June 2020
What made you apply for a job at Clinton?
I applied for the job while I was studying hydrography at Plymouth university. The role sounded very interesting with projects in lots of amazing places. Having worked on boats for quite a while the move to work as a surveyor seemed like the obvious step for me and I am really glad I made it. I am also grateful that this is my first survey job and I couldn't have got in with a better company!
What are your main tasks at Clinton today?
My main role is as the night shift surveyor onboard Lode.
What is the best part of working as a Surveyor?
The best part of working this role is working in different areas with great colleagues. As I am new to this career it is a constant learning curve which is fun and very welcome. I look forward to working in more areas of the U.K., Sweden and Europe while learning new techniques, using different survey technologies and meeting new people.