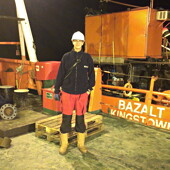 Maciej Nieczoglomski
Surveyor – Clinton Marine Survey
How long have you worked at Clinton?

I have been working at Clinton since April 2019
What made you apply for a job at Clinton?
One of my former company colleagues that has worked at Clinton told me that they were looking for Offshore Surveyors with Hydrographer Cat.A course, so I told to myself "Ok, why not to try?" and I do not regret it.
What are your main tasks at Clinton today?
I started as an Offshore Surveyor and now I carry the responsibilities of the Offshore Manager on the M/V Northern Wind. My main task is to perform on-board survey operations in appliance to the respect of the HESQ standards, best survey practice that will answer the demands of our clients.
What is the best part of working as an Offshore Surveyor ?
Every day is a new challenge bringing something new for you, so you do not have time to be bored. And of course a possibility of working on one of the fastest hydrographic survey vessel in Europe.