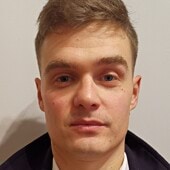 Michal Lysakowski
Surveyor – Clinton Marine Survey
How long have you worked at Clinton?
I have worked at Clinton for more than one year now. 
What made you apply for a job at Clinton?
I had two friends who recommended me to come to Clinton. Before that, I had read a about Clinton a couple of times and was really excited about starting to work at Clinton.
What are your main tasks at Clinton today?
My main tasks at Clinton is to collect the data, QC them onboard, keep our equipment in good conditions and also follow the orders from OM and office. 
What is the best part of working as a Offshore Surveyor?
The best part of working as an Offshore Surveyor is the fact that I have a chance to cooperate with such great guys, travel around to beautiful places, meet interesting people and sometimes have a chance to find something interesting and mysterious on the seabed during survey!