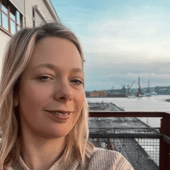 Jessica Ask
Hydrographic Director – Clinton Marine Survey
How long have you worked for Clinton?
Since 1 December 2015
What made you apply for a job at Clinton?
I wanted a job with a lot of variation, high standards, and where flexibility and enthusiasm are key ingredients . I was looking for the possibility to have responsibility and to work in a team where team work is as important as individual initiative and growth. Clinton seemed like an interesting and thinking-outside-the-box company.
What are your main tasks at Clinton today?
I manage the MBES processing team and have main responsibilities of making sure that we keep delivering high quality MBES data in all our projects and keep developing our methods and improving the way we work. It involves all steps in the process, from quality assessment of the data we acquire, to producing products, creating charts and preparing reports for the clients.
What is the best part to work as hydrographic manager in the hydrographic processors' team?
The constant need and room for solving problems that appear and trying to find the best way to finish the different tasks that come our way. The projects are varying and we need to be flexible and dynamic in our way of working to increase the quality and efficiency of our methods. We are a great team where we share our experiences and ideas for development and improvement. I love the challenges this job brings and the teamwork involved in every success.